Well, it's the end of the quarter and below was all I said I would do..... Lets sum it up what I've completed as I'm hooking up to
Red Letter Quilts for OMG
and
She Can Quilt 2016 Finish Along
(see at the end of this blog for the links). All goals that are completed are in bold.
Here's what I started with....
0 - My row by row. Well, out of the 58 that I have (and I started collecting for this year's theme Home Sweet Home), I've done two from last year. I did collect 10 more rows for this year.... I think I'm doing that wrong :) Here are the two but that was my goal.
1. A quilt for a very good friend of mine - tea time. It's done, now it needs quilting. My goal for the next quarter?!! For sure.


2 - Tulips paper piecing. Small project and I love the look of it. I traced the pattern but never got to it. Darn....
3 - My modern quilt - red of green. Worked on it for 6 month. The quilting is crazy. Below is a sample of the quilting. It's all done and it's quilted like crazy...
4. A panel wall hanging. got it while travelling around Manitoba for the Row by Row. That's right, a year old. It's cut, and I started sewing... but not completed.
5. A large lap quilt I call the garden (From Aurifill) that is 2 years old. I never even took it out of it's container. This needs to go back on the list.
6. My sunflower pixulated quilt. Again.... darn.
7. I finished one of the "Home Tweet Home" blocks that my friend gave to me. And she gave me another one. So that will make 3 down and another one to do next month.
8. A queen size quilt that is beautiful. All quilted (very light quilting) for the summer time. It's on my bed right now. Take a look. It's on the right. The colors are great and I enjoyed the flowers that I quilted along the edge. I started with the rulers, but then started doing it free style. See the diagram below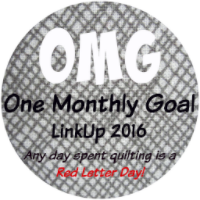 9 & 10 This was for my OMG challenge from Red Letter Quilt. I have the table top from the School Book by Sew Sisters completed but I'm not crazy about it. The size is wrong for my buffet. So I'm going to add some side panels and make it into a lap quilt
My goal is by the end of the year to do all the grades in it with the exception of one. But I won't tell you which one. I promised to do two and I only got one done and even then I'm changing it a bit. Sorry, not done.
11. I got all the blocks caught up for the Canadian Mystery Quilt by Shania Sunga. I've caught up with the last two. See them below.
12. I've started the pixelated quilt of Spock for my Trekkie mother. I did not realize that it's the 50th Anniversary of the original Star Trek so this works out fine. Got the pattern made up and I also have the material, and have started to cut out the pieces. Will have this one started with a friend at the end of June. My friend is coming over for a sew day in July so this works great.
13. Still waiting for this Craftsy quilt to be quilted.... Next quarter I'm looking at finishing all my UFO quilting quilts (there are at least 5 of them). To the right is a picture of what the quilt looks like. I have three of the blocks quilted, that means eight to go :)
14. I really love Zen Chic and I love this quilt. It's very easy to do, it's the quilting that takes time because of the negative space. So this goes onto next quarter's list.
That makes 5 goals all quilted and completed out of 14.
Not bad for this quarter - 2 of them are queen size quilts and I've caught up with 2 BOMs for this year which always feels good.
And how about some extras that took my fancy? Here's a few:


a. My landscape from my mother's house - to get out my father's death in November. I finally got it done after my brother passed away in May.
b) Two months of the BOM of the Midnight Garden completed. See below. I plan to have two a month done every month.
c) I started to catch up with the Splendid Quilting from Pat Sloan. Completed five of them. Don't ask how many there are.
Check it out for yourself.
My cousin asked for a quilt and I got one completed but not quilted. The design is from Siobhan Rogers from the book "By the Block". Unfortunately I think the quilt top is more for a girl than a boy, so I'll start a new one for him, but the quilting of this one goes into this month's OMG listing. 😉
The picture does not do it justice. The background is a very light baby blue. But no matter how many pictures I take, the colors will not come out.