OK, I've been sitting on this one for a while and I want it done!!! And it should be soon....
Here's the picture of what I have to work with. Almost done.
The quilt is of birds on a wire (it's knitting wool) and small quilts hanging on the laundry line as well. I have laundry pins cut out, I need to attach the quilts with these pins, and then quilt the entire thing. The small quilts range from 3" to 7". Really saying some with the size of the pieces on this quilt. Notice the blue background looks like falling leaves as well. The material for the back is Fossil Ferns by Patricia B. Campbell and Michelle L. Jack for Bernartex. I bought over 8yards, so that enough for the front and the back. The quilt is suppose to look like the picture below from Quiltmania #88 March/April 2012. But mine will be three dimensional, that's why the little quilts are backed, and quilted with batting in between. They're really cute but I won't show you now. Just where the editted version came from.
I also want to do a quilt by Zen Chic - the You & Me Quilt, a Christmas gift from my Aunt Fernande in Manitoba.
Have all the material and the pattern, so ready to go on this one.
Finally (it's spring break so I can do this) I want to do about 3 blocks from my Midnight Garden
This is my New Year's Resolution from All My People Quilt. See this post about it.

Wool Pattern. The pattern is by Sara Tuttle 7 Sandy Brawner, it's an older pattern with 12 blocks of flowers on a black background. There is embroidery and button stitching, perfect for relaxing in from of the TV. Haven't started at all.
On the small side I need to complete the following:
I'm two behind on the Quilt Doodle Quilt - but that's about 7 blocks.
I need to make my mini "Sew" block
Want to start the tree design I've been talking about - Winter trees in Manitoba
I still have to make another quilt from "Precut Primers" by Me and My Sister.
Have to catch up on Pat Sloan's quilt along. There are 5 blocks to do.
Have to do at least one month (I'm really one month and a half behind) of the 365 days quilt along. 3" squares - wow!!!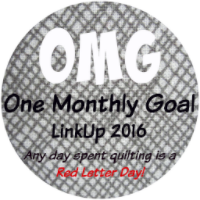 And now I'm stopping.
But for "One Monthly Goal" (I think of it more as "One More Gone") I'm talking about completing the Birds on a wire and the Zen pattern. The rest would be bonus and a long Spring Break time that I need to get my head back on. That means sewing. ;)
And Dee, I'm going to play with my quilting rulers!!!! OK this is definitely the last one :)